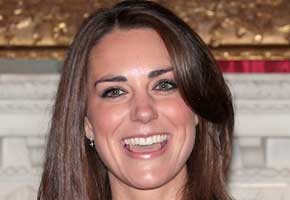 We are approximately 93 days, 19 hours, and 21 minutes away (get your countdown widget here) from watching Prince William and Kate Middleton walk down the aisle at Westminster Abbey. And while the royal couple are currently in the throes of wedding mania, The Daily Mail reports that Middleton has quit her day job at Party Pieces, her parents' mail order party supplies company.
Since quitting her position as an accessories buyer at the women's fashion franchise Jigsaw in 2007, Middleton has worked as a "project manager" for Party Pieces. Some of her responsibilities included overseeing various layout duties relating to the business's website, arranging photo shoots, and drafting its holiday catalog. But she obviously has no time for that now as she transitions into becoming a "member of the royal family."
A royal representative verified that Middleton did indeed quit on Friday (January 21). "She has handed over her work to colleagues and is now preparing for her future life," said a source.
Once finally a princess, it's likely that Middleton will join her husband in his various charitable missions. In December, she participated in her official charity debut as a soon-to-be royal at a fundraising concert for the Teenage Cancer Trust.
Read More
Filed Under: