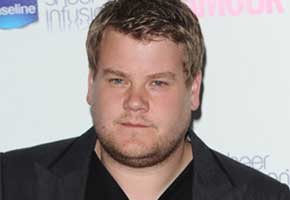 Life is good for British actor and television writer James Corden. He's still relishing his recent engagement to girlfriend Julia Carey. And in the midst of planning a wedding, he and Carey are prepping for parenthood, both of which provide a "settled" feeling for the Gavin & Stacey star.
"Since meeting my girlfriend, and we live in a nice house in a nice place, I feel a lot more settled now than I ever have done," Corden recently told The Sun. "I feel positive about things and having a baby feels lovely – but that's not always been the case. There are moments when I have thought 'what am I doing?' and you can start to think that things matter more than they do."
The burly Corden also looks back on his Gavin & Stacey days with a glimmer in his eye. He co-wrote the storyline for the BAFTA-award winning BBC romantic comedy (also seen on BBC America) and starred as the hilarious Smithy. But the show had its final curtain call after the third season in late 2009.
"I miss it so much, Smithy, all the characters, writing it and the filming of it," Corden shared. "I would love us to do a Christmas special one day. But you just have to find the time to do it correctly in the right manner and have enough time to make it good and shoot it properly."
He added: "I find it overwhelming that people mention it in the same breath as 'The Royle Family' or 'The Office', which mean the world to me."
In other Corden news, BBC Press announced today (January 4) that he will lend his voice to Little Charley Bear later this month. The children's program for ages 6 and under is a part of the BBC's Cbeebies network. What a fab gig for a new Dad!
Read More
Filed Under: