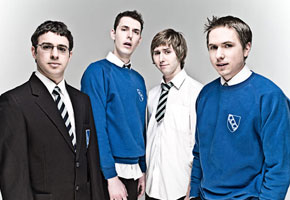 BBC News reports that the cast of The Inbetweeners are hitting the road in search of the UK's most crudely-named places. Sounds about right, yeah?
Simon Ward, James Buckley, Joe Thomas, and Blake Harrison a.k.a. Will, Jay, Simon and Neil will visit 50 places in 50 hours and they're doing it all for Comic Relief and their fight against poverty. The hilarious foursome will be traveling in Simon's mismatched yellow Fiat as they scour out spots like Minge Lane, Titty Ho and Bell End. Yikes!
Between today (January 18) and Thursday (January 20), the boys will be sharing daily updates and photos via the show's official Facebook page. Fans can also suggest smut-appropriate spots to visit. Plenty of highjinks are bound to ensue, right?
Read More
Filed Under: