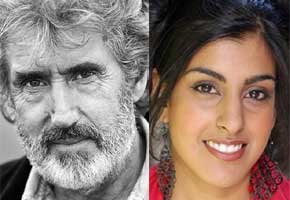 The Torchwood: Miracle Day family just keeps getting bigger. As we previously shared before the New Year, well-known Hollywood vets like Bill Pullman and Mekhi Phifer have signed on, while Alexa Havens (All My Children) and Dichen Lachman (Dollhouse) were added to the sci-fi show's roster prior to the cast's return to the set earlier this month.
But according to Digital Spy via Spotlight, Torchwood mainstays John Barrowman and Eve Myles, a.k.a. Captain Jack Harkness and Gwen Cooper, will soon meet another bunch of newcomers.
Welsh-born TV actor William Thomas — whose résumé includes stints on Doctor Who and Gavin & Stacey — will finally reprise his role as Geraint Cooper, Gwen's Dad. He first appeared on Torchwood back in 2007.
The lovely Lena Kaur, formerly of the British soap opera Hollyoaks, will star as Dr. Alicia Patel. Danny Szam (Skins, Casualty) has been cast as "Surveillance" (whatever that means?), while Daniel Adegboyega (Spooks) will portray "an unnamed guard".
The fourth season of Torchwood, as seen on BBC America, is slated to premiere on Starz in the U.S. this summer.
Read More
Filed Under: