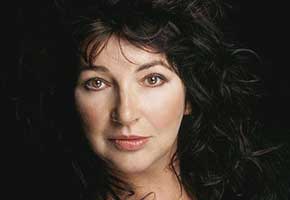 As previously mentioned in last week's (January 19) music roundup, parts of the blog world have been a little nuts lately regarding WotYouGot blog's recent revelation that some new Kate Bush material might be coming this year.
Musicweek is now reporting that four of Bush's eight studio albums will be reissued in the coming months. Leading the pack is her brilliant 1985 effort Hounds of Love, which gave the enigmatic English singer/songwriter her second UK No.1 album behind 1980's Never For Ever. Also on the docket are The Dreaming (1982), The Sensual World (1989) and The Red Shoes (1993). One of Bush's longtime colleagues, former EMI and PolyGram exec David Munns is apparently overseeing the details.
This is certainly something for dedicated KT fans, who are still anxious for a follow-up to 2005's double-set, Aerial. Since becoming a mom to son Albert a.k.a. Bertie in the late nineties, Bush has pretty much stayed away from the spotlight.
"Sat in Your Lap" from The Dreaming:
"Running Up That Hill" from Hounds of Love:
"Love and Anger" from The Sensual World:
The video for "Rubberband Girl" from The Red Shoes includes snippets from Bush's 1993 short film, The Line, the Cross & the Curve, also featuring English actress Miranda Richardson:
Read More
Filed Under: