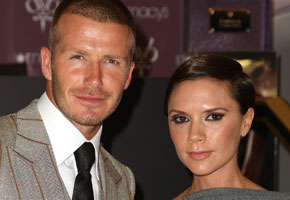 With the recent news of David and Victoria Beckham expecting their fourth child, some are wondering if they will add a girl to their all-boy brood? Or will the Beckham family line continue with another male? What are the odds?
"The odds are just about 50-50. It's like tossing a coin," Peter Bowen-Simpkins, medical director at the London Women's Clinic, and a spokesman for the Royal College of Obstetricians and Gynecologists, explained to BBC News.
While there's certainly a plethora of books and other literature out there that hint at how one might determine the sex of their baby, it's all up to science and nature when it comes down to it.
"All these things will make a difference only of 1% or 2%. If you look at three generations of a family you will find it comes out pretty well 50/50," Bowen-Simpkins added.
Dr. Allan Pacey, a senior lecturer in andrology at the University of Sheffield, also weighed in on the idea that social status may impact a baby's sex.
"It has been suggested that there may be links with an individual social status and the probability of having a boy," Pacey said. "It was suggested a few years ago that statistically, American presidents have had more sons than should have occurred by chance,
and that royal families across Europe, including our own, generally have more sons than daughters."
"Therefore, given the high regard that we seem to have for David Beckham in our society, it is perhaps of no surprise that he should be father to three boys and perhaps this raises the stakes for his fourth child to be a boy also."
Victoria did revel in her baby joy via Twitter on Monday (January 9). As the mother of three boys — eleven-year-old Brooklyn, eight-year-old Romeo and five-year-old Cruz — one's gotta assume that Vic might like to have a baby girl.The Daily Mail suggests that eating more cheese or giving up breakfast could help. Um, that's no good. But either way, I'm sure the Beckhams, like all parents, hope and pray for a happy and healthy baby, regardless of its gender.
Read More
Filed Under: