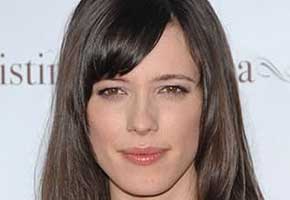 When it comes to the whole celebrity thing, London-born actress Rebecca Hall doesn't go for all the hoopla that comes along with it. Sure, she'll attend movie premieres in her best designer duds, but that doesn't mean the 28-year-old brunette stunner lives and breathes for the spotlight.
"I've never been one who gets frightened if I've not had my face splashed in magazines," Hall reveals to Britain's Harper Bazaar. She also graces the mag's February cover and its behind-the-scenes video highlights Hall's fantastic photo shoot.
In the last couple of years, Hall's growing popularity in the U.S. has landed her several standout film roles. In 2010, she wowed us in Ben Affleck's crime thriller The Town. And previous to that, she earned a Best Actress Golden Globe nomination for her role as Vicky in Woody Allen's 2008 romantic comedy, Vicky Cristina Barcelona.
But the theater veteran has not forgotten her roots and tells the magazine that she'll always stay close to the stage. Her regular routine is to do "one piece of theatre for every three films" in order to keep things fresh. She's currently starring in William Shakespeare's Twelfth Night, directed by her father Sir Peter Hall, at London's National Theatre.
"It's how to preserve one's mystique," she says. "I like disappearing, and I think I'll always do it."
Read More
Filed Under: