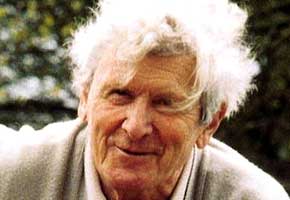 Dick King-Smith, the English author whose whimsical children's stories showcased his love of animals, passed away on Tuesday (January 4), The BBC reports. He was 88.
The World War II veteran and former farmer apparently didn't start writing until he was in his fifties and The Fox Busters marked his debut book in 1978. But most people will recognize his 1983 story, The Sheep-Pig, — Babe the Gallant Pig in the U.S. — which was adapted into the 1995 box office hit, Babe.
Over the years, some of King-Smith's other books inspired additional TV and film productions. The 2007 fantasy film, The Water Horse: Legend of the Deep, borrows from The Water Horse. The Queen's Nose was also developed into a BBC family show.
In December 2009, Queen Elizabeth honored King-Smith for his literary efforts with an OBE.
Read More
Filed Under: