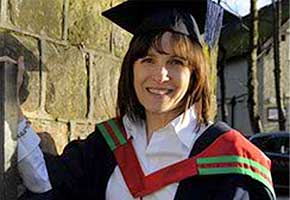 The Daily Telegraph reports that 53-year-old Ontario native Mary-Lu Zahalan-Kennedy has graduated from Liverpool Hope University with a Beatles Master's degree. How cool! According to the program's website, it is the "only one of its kind in the UK and the world".
Zahalan-Kennedy was just one of twelve students who enrolled in "The Beatles, Popular Music and Society" back in March 2009. The advanced course "examines the significance of the music of The Beatles and how it helped to define identities, culture and society," while also analyzing the legendary group's song structure and how the city of Liverpool influenced their sound.
"I am so proud of my achievement," said Zahalan-Kennedy, who is the program's first graduate. "The course was challenging, enjoyable and it provided a great insight into the impact The Beatles had and still have to this day across all aspects of life."
In addition to her studies, Zahalan-Kennedy is a pop/rock recording artist. She's issued three albums, including her 1982 debut Think of Me, which grabbed her a Juno nomination (Canada's version of the Grammys) for Most Promising Female Vocalist in 1983. Check out her song, "Turn of the Wheel" here.
Read More
Filed Under: