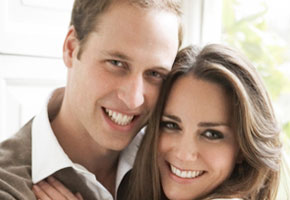 When Prince William and Kate Middleton get hitched on April 29, Brits will be rewarded with a day off work. But instead of parking in front of their TVs or celebrating with festive gatherings in their hometowns, many UK inhabitants will take advantage of the free day with trips abroad. And organizers of royal wedding street parties are even being urged to reschedule their events for later in the year.
As soon as Wills and Kate picked their wedding date, demand within Britain for overseas travel around that day skyrocketed. "One survey by TripAdvisor found that almost a third of Britons are planning a trip away during the Royal Wedding," The Daily Telegraph notes, adding that a travel expert at travelsupermarket.com predicts "about two million people are likely to leave the country during the weekend of the wedding alone."
The reason? It's all due to timing: "With Good Friday on April 22, followed by Easter Monday, the wedding a few days later and then May Day, many people will be able to take 11 days off while only using three days of their holiday allowance," The Daily Telegraph reports. Clever folks, those Brits.
Hmmm, with hotels booking up quickly in the UK with visitors for the royal wedding, maybe those departing Brits could make a pretty penny renting out their digs?
Read More
Filed Under: