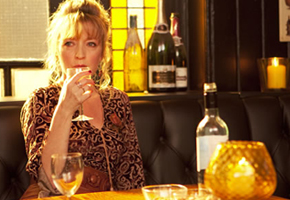 Britain's Lesley Manville will be in New York tonight (January 11) to pick up a prestigious Best Actress award from the National Board of Review for her role in Mike Leigh's latest picture Another Year. There is also talk she may secure an Oscar nomination. Manville — who's had a long career in Britain on stage, in television, and in cinema —  hopes the numerous American accolades coming her way will lead to work in the US.
But Manville, who's also appeared in Law & Order: UK on BBC America, doesn't have any illusions of becoming a big-time Hollywood star. As the 54-year-old British actress commented to me: "Hollywood…that's not going to be my niche at all. If anyone is going wants to work with me I would think it's going to be independent films. I'm not 22!" (Watch a clip of my interview with her.)
But she definitely wants to get U.S. film and TV gigs. Manville says: "I've reached a point in England where you can't go much further, I would love to come to America and work with some of the interesting directors here."
Look out for the Oscar nominations announcement on January 25. It could be a big day for Lesley Manville if she gets nominated, but she's up against some very fierce competition.
Read More
Filed Under: