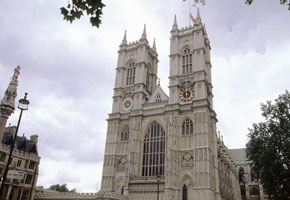 Planning a trip to the UK for the upcoming nuptials of Prince William and Kate Middleton? Columnist Suemedha Sood says you'd better act fast in this piece for BBC Travel:
London's tourism industry expects a major boost this spring when people from around the world flood the city to watch Prince William wed his long-time girlfriend Kate Middleton. The event, which could be the most expensive celebrity wedding of all time, is set to take place at Westminster Abbey on Friday, April 29.
Related article: A perfect day in London
Navigating London travel during the royal wedding rush could prove challenging, but there are several precautions tourists can take to ensure a smoother trip.
Accommodation
Above all else, book early, advises the United Kingdom's Tourist Authority Visit Britain. Several hotels near Westminster are already fully booked, and though vacancies are still available some are planning to increase prices by as much as 200 percent. Deals still exist, like at the Lancaster Gate and Shaftesbury Premier hotels in Hyde Park, which offer discounts for longer stays. Check hotel websites for details. Nearby hostels also have availability including the Astor Kensington (www.astorhostels.co.uk), just a short Tube ride away.
For folks who wait too long to book, there are other options, says Visit Britain public relations executive Meredith Pearson. "One possible way to save money is to… stay an hour or so outside of London and take the train into Central London," she advised. Towns like Cambridge, Reading, St Albans, Brighton and even Cardiff, Wales are all about one or two hours by train from London.
Airport hotels are likely to be cheaper, Pearson adds. "There's a great, affordable hotel near Heathrow Airport called the Runnymede-on-Thames which is right on the water…" This hotel is just a short taxi ride into Heathrow where you can take the Heathrow Express to London in 15 minutes. In addition, some Londoners have already started renting out their flats and houses for the occasion. Check LondonRentMyHouse.com, Gumtree.com and Craigslist for listings.
Getting there
Flights to London are also expected to become more expensive as the big day gets closer, so the sooner you book the better. There are still deals available. British Airways, for example, is offering a Royal Wedding Weekend package which includes a roundtrip flight from New York and three nights in a London hotel for $819. The online travel agency Go-today.com is offering a package for a longer stay in London — $1,099 for a roundtrip flight from New York plus six nights in a London hotel.
Pearson also advises pre-booking for trains and the London Underground, noting that tourists can purchase BritRail passes (for the train) and TravelCards (for public transit) at Visit Britain's online store.
If you wait until the last minute to book a flight, it may be more affordable to fly into a nearby city, like Paris, and take a train into London — though be prepared for crowds on the Chunnel. As of now, train ticket prices from France are about average and there is still plenty of availability.
Click over to BBC Travel for more on this story.
Read More
Filed Under: