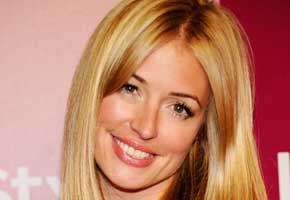 Calling all American royal watchers! Who out there just can't get enough of Prince William and his bride-to-be Kate Middleton? Raise your hand if you've daydreamed about being Princess Diana? Who's thought about what it might be like to meet Wills' wild younger brother, Prince Harry?
If so, get ready to jump on BBCAmerica.com's online casting call for Royally Mad, an upcoming show featuring America's most passionate royal wedding fans. BBC America is looking for die-hard royal enthusiasts to join host Cat Deeley for a tour of London's esteemed royal establishments and more! Are you in?
Here's the full press release for today's announcement:
BBC AMERICA ADDS ROYALLY MAD WITH HOST CAT DEELEY TO ROBUST ROYAL WEDDING LINEUP
New York, NY – BBC AMERICA, the home of the Royal Wedding, has signed Cat Deeley to host and produce Royally Mad, an original two-part special that is at the heart of the channel's comprehensive Royal Wedding coverage. Royally Mad is the latest addition to BBC AMERICA's robust Royal Wedding programming with more announcements to come. The channel has already aired two original BBC World News America specials, William & Kate: Modern Monarchy and Modern Monarchy: Here & There and an additional BBC World News America special will air next month. Part one of Royally Mad premieres Tuesday, April 12, 10:00 p.m. ET/PT and part two of Royally Mad premieres Tuesday, April 19, 10:00 p.m. ET/PT.
Cat Deeley, two-time BAFTA award winner and host of America's popular dance reality show, So You Think You Can Dance, is one of television's leading presenters. Royally Mad features Deeley as a spirited tour guide taking four of America's most enthusiastic Royal Wedding fanatics on a trip of a lifetime to London, where they will have a chance to indulge in everything Royal Wedding-themed and will ultimately experience their own fairytale ending. BBC AMERICA is partnering with the makers of Cash Cab, Lion Television, to produce the special and The Collective's Christina Gualazzi and Jeff Golenberg will act as Executive Producers along with Deeley.
Perry Simon, GM, Channels said: "BBC AMERICA is the place to tune in for all things Royal. Following on the successes of our recent primetime Royal Specials, our development of original programming is ramping up and Royally Mad is a highlight of our coverage leading up to the wedding of the century."
As part of BBC AMERICA's ongoing digital integration, BBCAmerica.com will spearhead the search for these rabid royal fans with an open casting call online. All interested participants should head to www.BBCAmerica.com/casting for their chance to embark on this unique adventure.
BBCAmerica.com has also launched a Royal Wedding Insider blog featuring insights from BBC Royal correspondents, daily updates on all wedding activities, pop-culture commentary, live chats, video, media from the BBC archives, and an embeddable countdown widget. The blog also is being syndicated on Yahoo! News through its The New Royals column.
Read More
Filed Under: