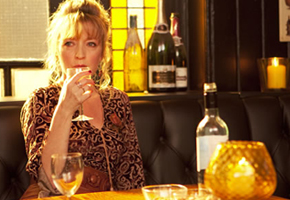 Lesley Manville's performance as self-pitying drunkard Mary in Mike Leigh's Another Year has won her many plaudits stateside, including the National Board of Review's Best Actress prize. (Read Leah Rozen's glowing review of the film.) But don't expect the British star to work with action-movie master Michael Bay anytime soon. "I don't even know who he is!" she tells the Vulture blog. What, she didn't experience the unsung masterpiece that is Pearl Harbor?
It appears that Manville is quite pleased with her career the way it is, thank you very much. "The thing is this: I've got an amazing career in England that couldn't possibly get much better. I do the best theater around, I work at the National Theater, the Old Vic — which I'm sure you've heard of because it's the one Kevin Spacey runs — and I play the most amazing roles and work with the most amazing directors.
"When I make films, I work with Mike Leigh, who's the most prolific director in England. It's all wonderful! But I would like to do some work here. I'd love to work with some good directors here and do some good projects. I think some of the television made here is pretty amazing, too. I'd love to do that as well, so if this opens that door for me, that's good."
I'd love to see what Ms. Manville could do with a U.S. television role: she'd totally rock one of those female-centric Showtime dramedies like United States of Tara or Nurse Jackie. Manville already made quite a name for herself in British TV: BBC America fans might know her as Phyllis Gladstone on Law & Order: UK, and she has appeared in the miniseries Cranford and North & South.
Read More
Filed Under: