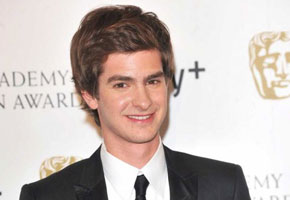 While Andrew Garfield morphs into one of the world's toughest superheroes for 2012's Spider-Man, the Golden Globe-nominated actor actually has more in common with his Peter Parker character than one might realize.
In a recent interview with The Daily Mail, Garfield discussed the issue of bullying. Like Parker and a lot of us, Garfield revealed that he dealt with his fair share of it during his formative years.
"Of course, every school has their bullies, and when you're a kid you wish you had the power to fight them and protect other people — and yourself," he said.
"School's hard. I think everyone has been bullied at some point. Kids can be incredibly cruel. On certain days you would come home and think, 'today was really horrible,' so I guess I have been bullied and I think everyone has been bullied at some point by some figure in their life. I don't think anyone can escape it."
And while Garfield wished there was a constructive way to handle the issuing of bullying, he did say that internalizing past run-ins with certain bullies doesn't really come to mind when he puts on that famous red and blue lycra suit.
"I haven't really thought of playing Spider-Man in the context of revenge upon those who bullied me. In all serious it's not a revenge move. It's a role," he explained. "But as a boy I probably wished I'd been bigger and stronger to help others and myself."
Shooting is already underway for the currently untitled Spider-Man reboot. But just last week Garfield was caught kissing his lovely co-star Emma Stone, who plays his love interest Gwen Stacy in the film. Perhaps she's been able to ease some of Garfield's nervousness over the part?
Read More
Filed Under: