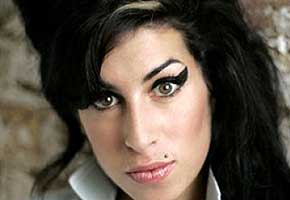 It's been almost five years since Amy Winehouse charmed us with her Grammy-winning second album, Back to Black. But when the English soul diva visits Brazil this month, she will remind us what she's made of by unveiling some new material says NME.
There's no word on how many songs she'll perform or what these new songs are called, but these particular festival gigs will mark the now sober Winehouse's first proper live performances in over two years. She'll first hit the stage on Saturday (January 8) at the Summer Soul Festival at the Il Divino Florianopolis.
We've been waiting for this, haven't we? Does she really have her act together to truly bring it once again? Her backup singer, Zalon, seems a bit optimistic and recently took to Twitter to share the news.
"Band rehearsing for Brazil tour! Get Ready! New songs," he tweeted on Tuesday (January 4).
While a couple of photos at Amy-winehouse.org feature a seemingly less-than-enthusiastic looking Amy during rehearsals, I'm not worried. The girl's talent is second to none and the tenacity that first put her on the map is still there, I know it. Bring it on, Amy!
Read More
Filed Under: