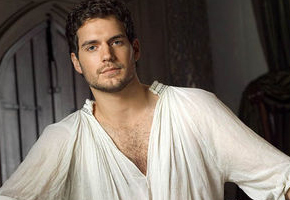 British actors are putting a stranglehold on Hollywood's superhero roles. There's Christian Bale as Batman, and more recently, The Social Network star Andrew Garfield has taken over for Tobey Maguire in the Spider-Man franchise.
And just yesterday (January 30), news broke that British actor Henry Cavill would suit up for Warner Bros. new Superman reboot, directed by 300's Zack Snyder and produced by Christopher Nolan. Cable viewers know Cavill for his role as Henry VIII's friend Charles Brandon on The Tudors, currently airing on BBC America. This casting catapults the saucy, gorgeous star to the very top of Hollywood's A-list.
Cavill's name has been bandied about for several high-profile roles over the years, including Bale's role in Christopher Nolan's Batman series. He was even tipped to play the Man of Steel in the previous Superman franchise before Brandon Routh grabbed the part. And a few years back, he was in the running to play 007, losing out to Daniel Craig.
For the new Superman, Cavill's competition reportedly included fellow Brit Matthew Goode, White Collar's Matthew Bomer, True Blood hunk Joe Manganiello, and The Rite's Colin O'Donaghue.
Here's a Showtime promo of Cavill in The Tudors:
Read More
Filed Under: