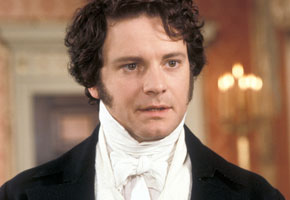 For years, Colin Firth was the reading woman's sex symbol. When a TV mini-series was made of Jane Austen's Pride and Prejudice in 1995, and when a movie version was made of Bridget Jones's Diary, Helen Fielding's chick lit classic, in 2001, he wowed as the flesh-and-blood embodiment of each book's respective version of Mr. Darcy.
Now, with back-to-back Oscar nominations for Best Actor for demanding roles in two terrific dramas, 2009's A Single Man and this winter's The King's Speech, the British actor has become more popular than ever. (Make of it what you will that at the same time, the star wattage of fellow British male stars such as Hugh Grant and Jude Law, who in Hollywood's eyes once outshone Firth, has dimmed considerably).
About time. Firth has always had the ability, as New York Times film critic Manohla Dargis so felicitously once put it, to make "decency seem sexy." Very sexy, especially when he combines being decent with stripping off his shirt, as in a P&P scene, which has been panted over by more than 1.5 million viewers on YouTube.
Firth, 50, has been appearing on TV and movie screens for more than a quarter century. Along the way, there have been superb movies (The English Patient, Shakespeare in Love, When Did You Last See Your Father?) and a few downright embarrassing ones (Femme Fatale, The Last Legion).
http://www.youtube.com/watch?v=gdi9t1qHhZg
Other than the occasional blockbuster like Mamma Mia! – and, yes, he did look really uncomfortable having to sing in it – Firth has mostly avoided big, splashy Hollywood productions. He has found his niche making art house movies, often period pieces. These films allow him to play characters of far greater emotional complexity than the cocky smart-alecks (Tom Cruise, Bruce Willis, Matthew McConaughey, etc.) populating screens in mega-budget, mainstream movies at the multiplex.
This was never truer than in the two films for which Firth has received Oscar nominations. In A Single Man, he plays a middle-aged Englishman who's gay and living in Los Angeles in the 1962. The movie takes place over the course of a day as its protagonist, deeply depressed after the death of his longtime lover in an accident and unable to express his grief openly, is planning his own suicide.
The nuance Firth brought to the role and the depth of feeling, even as his character kept himself rigidly in check while in public, were astonishing and heartbreaking.
http://www.youtube.com/watch?v=aypyJtHzC70
In The King's Speech, for which he has already won a Golden Globe award and is nominated for a BAFTA, Firth brings King George VI to vivid life as the British royal struggles to overcome a debilitating stammer. Just as Helen Mirren did in The Queen (for which she won a Best Actress Oscar), Firth simultaneously manages to ennoble and humanize a figure previously only glimpsed waving stiffly in fading newsreels.
And maybe that's really the key to Firth's talent: even at their most heroic, he always manages to make his characters touchingly, vulnerably human.
WATCH: Anglophenia's Interview with Colin Firth
More Firth:
http://www.youtube.com/watch?v=8FhOmzoqbuI&feature=related
Read More
Filed Under: