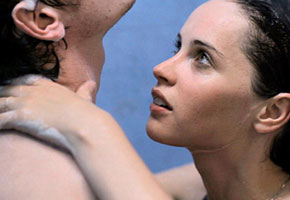 The Sundance Film Festival is the place where Next Big Things are born, and over the past week, we've seen a whole litter of much-hyped, up-and-coming talents. One is American actress Elizabeth Olsen, younger sister of Mary Kate and Ashley and star of Martha Marcy May Marlene, opposite UK actor Hugh Dancy.
But British actress Felicity Jones is giving Ms. Olsen some big competition, drawing great notices for her performance in the indie drama Like Crazy.
In the film, Jones plays Anna, an English college student who endures a torturous, transatlantic romance with an American. Sensing the festival buzz around Like Crazy, Paramount quickly purchased it for a cool $4 million.
Several news outlets have been comparing Jones to Carey Mulligan, the Doctor Who alum who lit up Sundance two years ago with her powerhouse performance in An Education. Mulligan rode the post-Sundance wave to an Oscar nomination and a host of highly coveted roles. Can Jones repeat her compatriot's success?
Given the hosannas being thrown Jones's way, I'd guess yes. The New York Times' Brooks Barnes says she's "captivating" in Like Crazy. Vulture's Kyle Buchanan describes her as "an intriguing blend of Anna Kendrick and Gemma Arterton" with "an avid onscreen presence and pursed sex-symbol lips." The Daily Telegraph's David Gritten says, "One senses she has what it takes to go far."
Jones was recently seen in Julie Taymor's gender-bending version of Shakespeare's The Tempest, co-starring Dame Helen Mirren.
Read More
Filed Under: