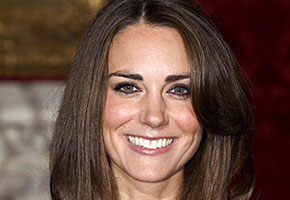 Like any couple preparing to walk down the aisle, Prince William and Kate Middleton will need a checklist. There's the dress, the flowers, the menu, the hair, the music, the fittings, the seating plan – we're breathless just thinking about it.
Thankfully, our friends over at Brides Magazine are experts at all of this. They'll be joining us each week to track where the royal couple should be in the pre-wedding process and offer their own suggestions on everything from fashion to floral arrangements.
This week, Sally Kilbridge, deputy editor of Brides Magazine, tackles the garment that strikes horror in the hearts of women worldwide: the dreaded bridesmaid dress. – Kevin Wicks
It's 12 weeks before the wedding, and if Kate hasn't already figured out what her attendants will wear, it's time to make some dress decisions. Given the massive scale and serious design of Westminster Abbey, she'd be wise to put her sister Pippa in a color that will stand out in the yawning Gothic interior.
Kate might take a cue from the sophisticated brights we've seen this year — poppy red, clean jade — or maybe choose a cheerful springtime shade like lavender or coral. The little bridesmaids will no doubt wear the flouncy Bo Peep frocks typical of royal weddings, but count on Kate to outfit her sis in something stylish enough to satisfy the fashion press, yet not so cutting-edge as to get any royal noses out of joint.
We'd love to see a glamorous bias-cut vintage-y number with cap sleeves or a sophisticated ball gown. Chances are slim to none that Pippa will ever wear it again, but given the fact that a billion people will have already seen her in it, you can hardly blame her.
To see hundreds of bridesmaids' dresses, visit brides.com/bridesmaids.
Read More
Filed Under: