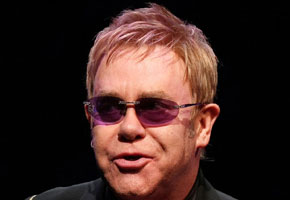 While some of Europe's esteemed royals have received their "save-the-date" faxes from Buckingham Palace, don't think Sir Elton John is sitting around waiting for an invitation to Prince William and Kate Middleton's big day. Besides, he is far too busy changing diapers and enjoying all of the "fantastic" things that come along with being a Dad since having son Zachary via a surrogate in December.
"I think because of my relationship with Princess Diana, people automatically think I'm going to be invited," John recently told Reuters.
The Grammy-winning entertainer went on to explain that he doesn't actually know William and his brother Harry terribly well, thus he "would not expect" to receive an invite.
"I don't really know the boys at all. I met the boys and had lunch with them when their mother was alive. I re-met them again when I did the concert for Diana a couple of years ago – the [2007] memorial concert."
He added: "They're tremendous boys, but I don't know them (so) it would be presumptuous of me to even talk about them. They are great boys, their mum would be very proud of them."
Perhaps his previous quip about "busking outside" Westminster Abbey on April 29th was just his cheeky way of pushing off the nosy media?
As for William and his bride-to-be, John only had kind words for the lovely couple as they get ready to embark on a new chapter in their lives: "I just wish them the happiest of lives together. They seem very happy. He's a really terrific man, William, and he's going to be a great king."
Read More
Filed Under: