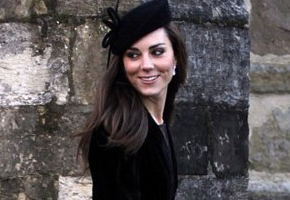 It's the most talked-about garment in the world right now, but no one has seen it. Yes, it's Kate Middleton's wedding gown, and, as the 100-day countdown to her nuptials with Prince William on April 29 ticks on, journalists are under extraordinary pressure to uncover it.
"Always alert to public appetites, [the British press] is deploying the full force of its inquisitorial might to reveal anything it can about the vestment and the identity of its creator," writes BBC News Magazine's Jon Kelly.
"Indeed, recent paparazzi photographs of Miss Middleton's mother and sister outside a boutique belonging to designer Bruce Oldfield were scrutinized and picked apart for clues, with a depth of analysis usually reserved for videotapes of Osama Bin Laden." (BBC World News America's Katty Kay had previously tipped Oldfield, the British designer, as the bookie's favorite to make Kate's dress.)
Kelly spoke to Elizabeth Emanuel, who designed Diana's dress back in 1981 with her husband David, about the need to keep the gown under wraps. They had even created a second garment just in case the first one had been leaked! "We kept the dress in a huge safe," says Ms. Emanuel. "They had to hoist it through the window. We had two security guards, Jim and Bert, who would come in and guard it overnight when we went home.
"It was a huge amount of pressure. In case it did leak, we had a spare dress in reserve. It looked very similar but it had slimmer sleeves. Diana was great when she came over to the studio. There was never any feeling it was too stressful for her, but it must have been difficult."
Thirty years later in a world with myriad rabid outlets, it will prove even more difficult to keep leaks from occurring.
For more from Jon Kelly's piece, visit BBC News Magazine.
Read More
Filed Under: