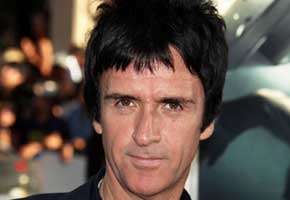 According to The Daily Telegraph, former Smiths axeman Johnny Marr is mulling over the idea of writing a memoir. Marr recently revealed via Twitter that he's been "offered book deal" and it's "a serious one." Hmmm, I wonder if Marr will shed some light on his somewhat strenuous relationship with his old bandmate, Morrissey? I'm sure there's loads to tell about working with Modest Mouse's Isaac Brock?
While the 47-year-old English guitarist — whose résumé also includes work with The The, Electronic and Modest Mouse, and currently The Cribs — maintains that a book will indeed come together, he doesn't want it to take away from his songwriting.
"It will be an autobiography of course, that or about my collection of fascinating public bus tickets from the '80's. That would be cool," he playfully tweeted.
Back in 2008, Morrissey told BBC Radio 2 personality Janice Long that he was working on a career-spanning autobiography of his own. He offered a glimpse of what's to come when his short story, "The Bleak Moor Lies," was included in the Tate St. Ives art book, The Dark Monarch: Magic And Modernity In British Art in 2009. Since then, we haven't heard much. Hurry Mozzer, we can't wait! You too, Johnny!
Read More
Filed Under: