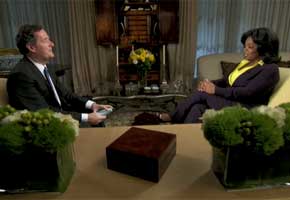 British media personality Piers Morgan officially made his CNN debut on Monday (January 17), stepping into Larry King's previous slot with Piers Morgan Tonight. For those who missed it, the former America's Got Talent host and Celebrity Apprentice champion was quite charming when sitting down with American chat-show queen, Oprah Winfrey.
Entertainment Weekly praised Morgan's first night on, calling him "clever, tenacious, vain, a flatterer, and fitfully funny". But the New York Daily News begged to differ, saying that Morgan didn't "shake things up" with Oprah. But you have to love her for sticking it to Morgan when he brought up the topic marriage. "You're wasting your time on this Stedman thing," Oprah quickly quipped in reference to never tying the knot with her longtime beau, Stedman Graham. Highlights are included below:
"I'm just not the marrying kind":

Oprah discusses getting her heartbroken on two occasions:

Fame and fortune:

Morgan has previously stated that Madonna will never be a guest on Piers Morgan Tonight. You can add Heather Mills, Cherie Blair, Howie Mandel, and Keith Olbermann to that list as well. According to OK! magazine, Morgan finds Mandel to be "too irritating" and he and Blair just don't click. As for Mills, the reasons are kind of personal. The contentious Olbermann *might* end up on the show at some point. Morgan just wants to "annoy" him for the time being.
How do you think Piers Morgan did last night?
Read More
Filed Under: