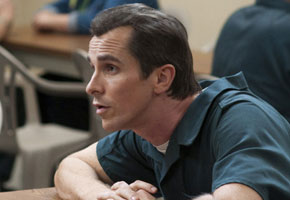 The 68th Annual Golden Globe Awards were handed out this evening. Ricky Gervais hosted for the second year in a row in a performance that was criticized as "mean-spirited" and "uncomfortable" by some. While the winners did solidify some of the frontrunners in the major races, they won't necessarily predict the Oscars.
In spite of The King's Speech's field-leading seven nominations, critics' favorite The Social Network trumped the British period drama in most of the top categories, including Best Picture and Best Director (David Fincher). As I mentioned on Twitter, I'm not convinced the Oscars will repeat the Globes' embrace of the accomplished but cold Social Network, which feels more like a media phenomenon.  The King's Speech is a crowd pleaser that ticks off many of the Academy's checkboxes, and I still like its chances Oscar night. (The much-respected Fincher will likely win the Oscar over the relatively unknown Tom Hooper, however.)
Colin Firth, who plays King George VI in The King's Speech, received the Best Actor prize as expected, but his co-star Helena Bonham Carter lost to The Fighter's Melissa Leo in the Supporting Actress race.
Christian Bale also represented the Union Jack with his Supporting Actor win for The Fighter. Like Firth, he also appears to be a lock, and his charming, jovial acceptance speeches as of late can only make it easier for the Academy to reward his performance.
On the TV side, British star Idris Elba was up for Best Actor in a Miniseries or TV Movie for his role on BBC America's Luther, but the HFPA couldn't resist giving the award to Al Pacino, who won for playing "Dr. Death," Jack Kevorkian, in the HBO drama, You Don't Know Jack. In the Actress in a Miniseries or TV Movie category, Temple Grandin's Claire Danes defeated a trio of British actresses, Hayley Atwell, Judi Dench, and Romola Garai.
Let's just say that it was closer to famine than feast for a lot of UK talent at the Globes. Here's the full list of winners:
FILM:
Best Picture (Drama)
'The Social Network'
Best Picture (Comedy)
'The Kids Are All Right'
Best Picture (Animated)
'Toy Story 3'
Best Director
David Fincher, 'The Social Network'
Best Actress (Comedy)
Annette Bening, 'The Kids Are All Right'
Best Actress (Drama)
Natalie Portman, 'Black Swan'
Best Actor (Drama)
Colin Firth, 'The King's Speech'
Best Actor (Comedy)
Paul Giamatti, 'Barney's Version'
Best Supporting Actor
Christian Bale, 'The Fighter'
Best Supporting Actress
Melissa Leo, 'The Fighter'
TV:
Best Drama Series
'Boardwalk Empire,' HBO
Best Comedy Series
'Glee,' Fox
Best Actor, Drama
Steve Buscemi, 'Boardwalk Empire'
Best Actress, Drama
Katey Sagal, 'Sons of Anarchy'
Best Actor, Comedy
Jim Parsons, 'The Big Bang Theory'
Best Actress, Comedy
Laura Linney, 'The Big C'
Best Supporting Actor
Chris Colfer, 'Glee'
Best Supporting Actress
Jane Lynch, 'Glee'
Best Mini-Series or Made for TV Movie
'Carlos,' Sundance
Best Actor in a Mini-Series or Made for TV Movie
Al Pacino, 'You Don't Know Jack'
Best Actress in a Mini-Series or Made for TV Movie
Claire Danes, 'Temple Grandin'
Read More
Filed Under: