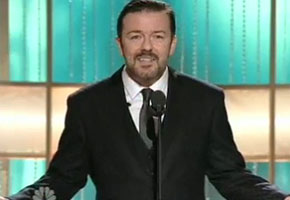 Wowsa! Ricky Gervais was at his surliest best as host of Sunday night's (January 16) 68th annual Golden Globes, wasn't he? And while the svelte and stylishly dressed British comedian promised that he wanted to do a "proper job" when visiting Conan last week, some might argue that Gervais' efforts were anything but.
Gawker called his opening monologue "unrelentingly harsh" and "uncomfortable." And about half way through the show, he was nowhere to be found. But before bringing the evening to a close and thanking the audience for being "good sports," Gervais slung in one more zinger. Here's a look back:
"It's going to be a night of partying and heavy drinking. Or as Charlie Sheen calls it: Breakfast."
"Do you want to go see Cher? No. Why not? Because it's not 1975."
"There's been some great TV drama this year like Boardwalk Empire and The Walking Dead. Talking of the walking dead, congratulations to Hugh Hefner who's getting married at the age of 84 to 24-year-old beauty Crystal Harris."
"You know our next presenter from Hudson Hawk, Look Who's Talking, Mercury Rising, Color of Night, The Fifth Element, Hart's War. Ashton Kutcher's dad!" — when introducing presenter Bruce Willis
"Next up Eva Longoria has the daunting task of introducing the president of the Hollywood Foreign Press [Philip Berk]. That's nothing. I just had to help him off the toilet and pop his teeth in. It was messy."
"That's my favorite film of the year [when referencing The Social Network]. The creator of Facebook of course, Mark Zuckerberg, is reportedly worth $7 billion dollars. Heather Mills calls him the one that got away."
"I love this next presenter. He's so cool. He's the star of Iron Man, Two Girls and a Guy, Wonder Boys. Sorry these porn films? Kiss Kiss Bang Bang, Bowfinger. Really? Up the Academy, come on. He has done all those films but many of you in this room probably know him best from such facilities as the Betty Ford Clinic and Los Angeles County Jail" — when introducing Robert Downey Jr.
"Our next presenters are two of the funniest people in America. She stole the show on Saturday Night Live then went on to create, write, and star in her own show, 30 Rock. He was a jobbing actor, career not going that well if I'm being totally honest, who got his big break when I cast him in a remake in a show that I created called The Office. He's now leaving that show and getting a cash cow for both of us. Please welcome the wonderful Tina Fey and the ungrateful Steve Carell!"
"They're lovely to look at which is just as well because they're presenting for Best Foreign Language film, a category that no one in America cares about." — referring to presenters Olivia Wilde and Robert Pattinson and their Hollywood good looks.
"Thank you to God for making me an atheist."
Last night, we asked some of our Twitter followers to share their thoughts on Gervais' controversial Golden Globes performance. For those who chimed in, it was pretty much an even split.
ginger_lizard: I liked Gervais' atheist joke. The others? I'd like to think that was good ol' British wit, but they felt unnecessarily mean.
Gwar56: He was fantastic. He should be back. Loved hearing people gasp.
mulatta: I've always loved him, and tonight was no exception. The audience was too self-righteous and butthurty. Not enough alcohol?
oboogie: I loved it, but he won't be asked back. He's too funny and too irreverent.
mcfangirl: What I think of him hosting stuff every year – I like British humor, but don't find him funny and neither does America, hee hee.
ariedana: I loved him, but he'll never host again. But he said all week he'd make sure they never asked him back.
SNBCSinger: Didn't like him. Ticked off too many people. Though he was brutally honest, he stepped on to many egos and toes. He won't be back.
mistyclifton: His opening schtick that consisted of 'be an a***hole' was stupid and not funny. One can do witty send-ups w/o being a douche.
parlezdudiable: Celebs are notoriously humorless when jokes are made at their expense, even if funny and/or true. I liked him.
theshenerd: Ricky kind of made Joan Rivers look like a nice, sweet commentator of celebs.
How do you think Gervais did as host?
Read More
Filed Under: