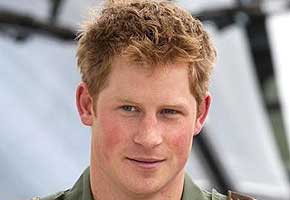 Fresh from his ping-pong game loss to Kings of Leon's Nathan Followill, it's back to business for Prince Harry. The 26-year-old British prince is currently training for an upcoming hike across the frigid Arctic landscape.
In what is supposedly the "most arduous trip attempted by a senior member of the royal family," the Evening Standard reports that Prince Harry will team up with four disabled soldiers in order to raise more than $3.1 million (£2 million) for the Walking with the Wounded organization. Proceeds raised will help four other charity groups who work with ex-military members also injured during wartime.
Harry is apparently "keen as mustard" to take part in such a trip where the wind-chill factor might drop as low as -76°F (-60°C). His counterparts — who were wounded while fighting in Afghanistan — are slated to embark on a month-long, 200-mile journey beginning in late March. Harry is expected to join them for his week-long stretch once finishing his helicopter training.
Read More
Filed Under: