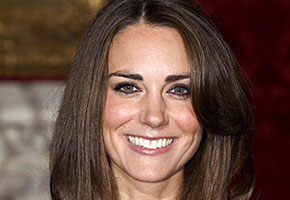 Prince William's bride-to-be Kate Middleton turned 29 on Sunday, January 9, enjoying a low-key celebration in private. So in honor of Miss Kate, here are 29 reasons why we love her!
29. In honor of their engagement, McCalls Highlandwear bestowed Kate and William with their very own tartan, Royal Pride. The mix of "royal blue, black, charcoal and silver" really make for a sleek blend.
28. This year, Kate came in at No. 3 on Barbara Walters's "2010 Most Fascinating People" list, which is totally well-deserved.
27. Say what you want about the UK Royal Mint's commemorative coin featuring Wills and Kate. But the fact remains: she has her own coin!
26. American comedienne and fashion critic Joan Rivers's approves of Kate's sense of style, too. And that's something!
25. Like any couple in love, they share in each other's interests. Kate isn't shy about going hunting with her man.
24. It's been said that England's economy could also reap the benefits of having a modern royal wedding this year.
23. Even a lad's magazine like FHM shows her respect: "Radiating style, elegance, beauty and a ridiculous amount of money, is there a mother in the country that wouldn't be overjoyed at seeing her son alongside such a consummate lady?"
22. Kate's forthcoming Madame Tussauds wax figure is surely to be just as beautiful as she is.
21. While attending St. Andrews University in 2002, Kate donned a transparent frock during a charity fashion show – only she could rock it with such flair. And William certainly took notice.
20. Punk legend John Lydon is a fan. "People think I hate the Royal Family, but that's not true," the Sex Pistols/Public Image Limited frontman told said in November. My animosity is towards the institution, not the people themselves… but Willy and Katy look like they are genuinely in love and that's all I look for."
19. Tatler magazine gave her the royal Andy Warhol treatment for their special February collector's issue.
18. Once Wills are Kate are married, Prince Charles's wife, Camilla, the Duchess of Cornwall, might have to "curtsey" to her new step daughter-in-law. We kind of like that idea!
17. How does she maintain her svelte figure? By taking part in grueling competitive rowing.
16. She also stands by William as he serves his country as a member of the Royal Air Force.
15. Kate's Pantene-looking hair is marvelous, but the girl can also rock a chic chapeau.
14. When Kate and William split for a brief period of time in spring 2007, she let the press and her ex know that she wasn't the kind of girl to hibernate inside, devouring pints of ice cream and watching romantic comedies. The girl got back out there, went dancing with her friends and the like. Right on, sister!
13. Kate DOES appreciate the value of hard work. She was previously an accessories buyer for the women's clothing line, Jigsaw. And she also worked full time for her parents' party accessory company, Party Pieces.
12. Kate has certainly become quite the fashion maven over the years. We absolutely love the royal blue Issa dress that she wore during the couple's engagement announcement with the press.
11. And we loved the white Reiss dress Kate wore in her and William's engagement photos.
10. Don't mess with Kate! She has had the wherewithal to take on the paparazzi, pursuing legal action. And she's won in court!
9. Her classmates at Marlborough College adored her. Her college master said, "I don't think you'd find anyone in Marlborough with a bad word to say about her."
8. She and Prince Harry get along fabulously. He's already calling her "sis".
7. Like his late mother Princess Diana, William is very active in various charitable causes. His lady love is also joining him in his efforts. In December, she made her "royal fiancée" debut at a fundraising concert for the Teenage Cancer Trust.
6. Once newlyweds, Wills and Kate will live like any regular couple without a staff of servants, butlers, cooks, and maids. How cool is that?
5. The HAIR! The girl's shiny brown mane is to-die-for. She even has some copycats out there.
4. When it comes to planning the wedding of their dreams, Kate and William are overseeing every detail themselves. You'd think they'd have a host of people telling them what to do and how to do it. How refreshing!
3. Kate is extremely close to her family, which includes parents Michael and Carole and siblings Philippa (Pippa) and James. In the pair's first post-engagement interview with BBC News, she said they are "very dear" to her and that she and William hope to have a "happy" family of their own one day.
2. So far, Kate has seemingly handled all public coverage with class and grace. She possesses the same elegance and charm as William's mother, while also appearing incredibly down-to-earth, kind, and sincere. She seems like a truly good person, which can only soften the public's mixed views of the Royal Family.
1. We love Kate Middleton because she's won the heart of the world's most famous prince. They seem like the real deal, a solid team that are also madly in love. It doesn't get any better than that.
Kevin Wicks also contributed to this post.
Read More
Filed Under: