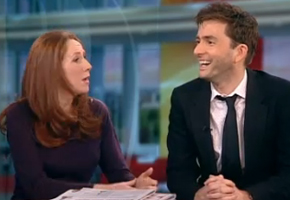 The Tenth Doctor and Donna Noble reunited? Kinda sorta. Former Doctor Who castmates David Tennant and Catherine Tate announced on BBC News that they will appear together in a stage production of William Shakespeare's Much Ado About Nothing this summer. The staging will run in London's West End at Wyndham's Theatre from June 1 to September 3.
Tennant and Tate will transform their platonic partnership on Doctor Who into a combative romantic pairing in Much Ado: they'll play bickering lovers Benedick and Beatrice in the play.
Tennant told BBC News, "Going back to the theater is something that I would naturally do. And getting the chance to…work with one of your mates and do a play that you always wanted to do just felt like an opportunity that was too good to miss really.'"
"The idea came from us," Tate added. "We went to [producers]. Because I always wanted to do it but never said. Because I thought it was too close to the Doctor Who time when I was thinking about doing it."
Tennant is a Royal Shakespeare Company vet, starring in several of the Bard's works, including 2008's Hamlet, a production which was adapted into a well-received BBC film. Tate is also quite familiar with the stage; she's currently performing Alan Ayckbourn's Season's Greetings at the UK's National Theatre.
Earlier this week, it was reported that Tennant was entering into a partnership of a different sort with another Doctor Who star: he's engaged to Georgia Moffett, the actress who played the Doctor's daughter.
Read More
Filed Under: