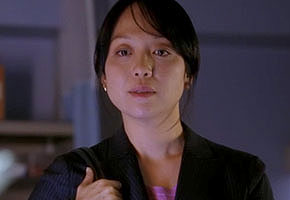 Alex Kingston (River Song on Doctor Who) wasn't the only resident of the Whoniverse on U.S. TV last night (January 6). Naoko Mori, formerly Toshiko Sato on Torchwood, had a dramatic guest spot on last night's Private Practice, the ABC medical drama. She played Patricia, a Stanford-educated scientist whose husband, a genius-level engineer, suffers brain damage in a car accident. In the episode, Patricia won't allow doctors to perform any surgery that might affect her husband's abilities.
ginger_lizard tweeted a question to us last night: "Has Naoko Mori lived in the U.S. at all? Her American accent on Private Practice is excellent!" Mori has indeed lived in the States: the Japanese-born actress spent part of her childhood in New Jersey.
Here are a couple grabs from last night's episode. You can watch it in full at ABC.com.
Read More
Filed Under: