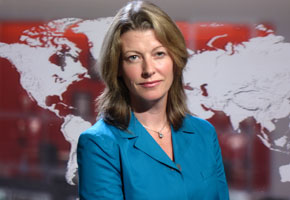 With Clarence House announcing new info about Prince William and Kate Middleton's wedding today (January 5), I'm sure many folks have questions. (Namely, what the heck is Clarence House?) Thankfully, we have BBC News correspondent Laura Trevelyan to guide us through the arcane details. We'd like to welcome her aboard to our Royal Wedding Insider blog!
A regular contributor to BBC World News America, Laura maintains an eagle eye on all matters royal. In the weeks leading up to the April 29 nuptials, Laura will be answering your questions and sifting through the royal rigmarole to give us the real scoop. Tweet us at @bbcroyalwedding or post to our Royal Wedding Facebook page with your inquiries!
Today, Laura answers eight questions about the royal wedding:
Who is Clarence, and why is his house speaking on behalf of Prince William and Kate?
LT: Today's announcement has been variously attributed to Clarence House and to St. James's Palace. Let me try to unravel this for you! Of course buildings don't speak, but here's what they represent. St. James's Palace in London is where the Royal Court is formally based, and the complex includes Clarence House, which is the official residence of the Prince of Wales and the Duchess of Cornwall, and it's the home of Prince William and Prince Harry.
So when you read "St James's Palace has disclosed" or "Clarence House has revealed" that's shorthand for royal officials speaking on behalf of Prince Charles and Prince William. Buckingham Palace, close to St James's Palace, is where the Queen lives, so Palace officials speak on behalf of the Queen.
An 11 am wedding – isn't that a touch early? That's 6 am East Coast U.S. and 3 am West Coast for American TV viewers!
LT: An 11 am wedding is in keeping with Royal Tradition – William's mother, Diana, arrived almost on time for her 11:20 am BST ceremony on July 29, 1981.
How long will the wedding last?
LT: We can expect the wedding to last for about an hour. Charles and Diana appeared on the balcony at Buckingham Palace to exchange a kiss at 1:10 pm BST on their wedding day, having traveled there by landau (a carriage).
The Archbishop of Canterbury, the Dean of Westminster, and the Bishop of London – who are these people?
LT: The Archbishop of Canterbury, Dr. Rowan Williams, is the head of the (Protestant) Church of England, and it is traditional for the Archbishop of Canterbury to marry monarchs. The Dean of Westminster is the leading religious figure at Westminster Abbey, which is where the wedding will be held. He's going to conduct the service.
The Bishop of London, the Right Reverend Richard Chartres, is another leading figure in London's religious community; he will give the address at the wedding. The BBC's religious affairs correspondent Robert Piggott notes that the Bishop is close to Prince Charles, and counseled him after the death of Diana.
Diana arrived to the wedding by carriage. Why is Kate going by car?
LT: Kate's decision to arrive by car is being seen as a major break with tradition – Diana traveled with her father in a glass coach to her wedding, allowing the crowds to see her dress before she walked up the aisle. The BBC's Royal Correspondent Daniela Relph says this was Miss Middleton's idea — she wanted to arrive at Westminster Abbey in a more low-key way and not have the "pomp and lavishness" that comes with the carriage arrival.
Remember too that Britain is still emerging from recession and is undergoing severe public sector cuts, so royal officials are mindful of trying to strike a balance between celebrating the wedding while not being too ostentatious as others are having to tighten their belts.
What's the significance of the wedding's processional route through London?
LT: Once they're married, William and Kate will travel by carriage from Westminster Abbey to Buckingham Palace — their traditional route will take them through Parliament Square, to Whitehall, down Horse Guards Parade, to the Mall and then the Palace itself. The world will watch the couple passing by London's best known landmarks like the Houses of Parliament, as they travel through the heart of ceremonial, historic, and official London.
What takes place at the royal reception, and who will be invited?
LT: The Queen will host a reception at Buckingham Palace after the ceremony, with guests from the congregation, reflecting Kate and William's official and private lives. Royal observers note that this reception will be bigger and more inclusive than usual, not just a family affair.
Will Kate wear different outfits for the wedding, reception, and Prince Charles' dinner in the evening? That's a lot of costume changes.
LT: Kate will wear her dress to the wedding and probably the reception, but will have an opportunity to change before the dinner and dance in the evening which is being hosted by Prince Charles at Buckingham Palace. The crowds outside Buckingham Palace will be hoping the couple appears on the balcony just as Charles and Diana did.
Read More
Filed Under: