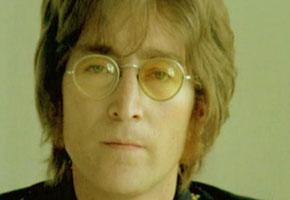 It's been 40 years since The Beatles split this month, and 30 years since the death of John Lennon. Tom Brook, who was the first British journalist to report live from the scene of Lennon's murder, has interviewed top celebs from the film and music worlds about the fallen Beatle's legacy.
Back on December 8, Anglophenia released Brook's interview with James Taylor in which the singer/songwriter made a surprising claim that he'd met Lennon's assassin 24 hours before the murder. That clip caused a bit of a stir on the Web, so we're posting some more of Brook's celebrity interviews today.
Oscar favorite and Golden Globe nominee Colin Firth (The King's Speech) says he was "numb" when he learned about Lennon's death. But he adds, "I never went through that profound grief that some people did. I didn't cry. I think maybe too many people were grieving around me."
Oscar-nominated actress Miranda Richardson, who appears in the recent UK critics' darling Made in Dagenham, says Lennon's death still affects her. "Everytime I come to New York I think about it. Celebrity and the ramifications of celebrity can be very disturbing."
U2 frontman Bono expands on Lennon's influence. The Irish-born singer and activist would appear to be a Lennon acolyte, but he explains, "[Lennon's] politics were secondary to his personal commitment to peace."
In his clip, Mark Ronson, the producer best known for his work with Amy Winehouse, compares Lennon to one of the most revered icons in world history.
Finally, in two short clips, Lennon's son Sean very articulately opens up about his father's lingering effect on him, mother Yoko Ono, and Sean's own politics.
Read More
Filed Under: