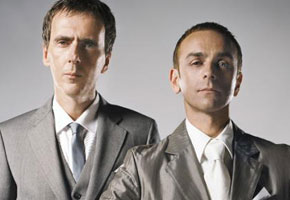 Danny Boyle's forthcoming stage interpretation of Frankenstein is set to have some spectacular sound courtesy of Underworld. The Guardian reports that Karl Hyde and Rick Smith will oversee a "soundscore" for the play. Ooooooh!
The English electronic duo first synced up with the Oscar-winning director nearly 15 years ago when their song "Born Slippy NUXX" was featured in Trainspotting. They also helped helm the score to his 2007 psychological sci-fi film, Sunshine.
As previously reported, Benedict Cumberbatch and Jonny Lee Miller star in alternating roles as the mad scientist and his gargantuan monster. The play, which opens February 5 at the National Theatre in London, is based on writer Nick Dear's adaptation of Mary Shelley's famed Gothic novel published in 1818.
Naomie Harris has also been cast as orphan Elizabeth Lavenza. The 34-year-old London-born actress previously played Selena in Boyle's 2002 sci-fi horror, 28 Days Later. She is also known for her portrayal of Alison Wade on the BBC One drama, Accused.
Read More
Filed Under: