Who was the hottest UK film actor of 2010? We put that very question up to a vote on Monday, asking BBC America's Facebook fans to choose from a list of ten British thespians who all rocked the film world in the past year. We had a few write-in votes for Harry Potter star Rupert Grint (and after photos like this, we can certainly see why). Former Mi-5 star Matthew Macfadyen, the Sheriff in the recent Robin Hood remake, also received a bit of love. Demonstrating the ongoing popularity of Doctor Who, both Matt Smith and David Tennant were repeatedly thrown in the ring.
When the votes were tabulated, Aaron Johnson (No. 10), Russell Brand (No. 9), Christian Bale (No. 8), Robert Pattinson (No. 7), and Andrew Garfield (No. 6) filled out the bottom half of our top 10 list. Who were the five actors who most captured hearts in 2010? Check out the top 5: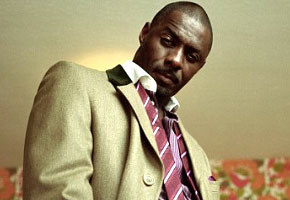 5. Idris Elba
Elba's commanding star turn as ambitious drug kingpin Stringer Bell on HBO's critically revered drama The Wire demanded the film industry's attention. Who was this muscular, mesmerizing masculine presence with the flawless American accent? He's been richly rewarded with major film roles in everything from American Gangster and Guy Ritchie's RockNRolla to the 2010 No. 1 hit Takers, in which Elba played ruthless heist organizer Gordon Cozier. As 2011 comes around, it's all blue skies for Elba as he steps into Morgan Freeman's well-worn shoes as Dr. Alex Cross in Cross, the upcoming adaptation of James Patterson's crime novel. He also has Kenneth Branagh's Thor in the can, and a picture deal with Marvel could see Elba headlining a franchise based on the Luke Cage comic book series. All this, and he's doing a second season of the British detective drama Luther as well? When does this man sleep?
4. Daniel Radcliffe
Daniel Radcliffe's decade-long run as the bespectacled adolescent wizard has made him the wealthiest young actor in Britain. But that question remains: what's Radcliffe's value outside the lucrative Harry Potter franchise? Will he be Harrison Ford post-Star Wars, or will he be Mark Hamill? Hollywood is banking on his future success, as he has two films coming in 2011 (not including Part 2 of The Deathly Hallows, which will release in July). He has an Oscar bait role as murdered British Reuters photographer Dan Eldon in the based-on-a-true-story The Journey Is the Destination, and he's been shooting The Woman in Black, a "gothic thriller" based on Susan Hill's novel. 2011 will also find Radcliffe back on Broadway in a revival of How To Succeed in Business Without Really Trying, and for 2012, he's attached to a remake of the Oscar-winning classic All Quiet on the Western Front. Doesn't sound like Mr. Radcliffe will have too much time to count his millions.
3. Tom Hardy
With a dandy's élan in a thug's body, Hardy is one of the most distinctive character actors in Britain. We previously singled out the burly Mr. Hardy in our breakout actors list earlier this week for his clever role as Eames in this summer's mind-bending phenomenon, Inception. That film's director Christopher Nolan was so impressed with his chops that he hired Hardy to play a yet-to-be-determined role in the follow up to The Dark Night Batman film. But in the meantime, the 33-year-old London native has three very different films slotted for 2011. He'll play a mixed martial artist in the father-son drama Warrior opposite Nick Nolte; a man who battles his best mate (Chris Pine) for the affections of a woman (Reese Witherspoon) in the action rom-com This Means War; and renegade agent Ricki Tarr in an adaptation of John Le Carré's novel Tinker, Tailor, Soldier, Spy.
2. Gerard Butler
Butler has starred in a slew of critically panned films over the last two years – the crass Katherine Heigl comedy The Ugly Truth, the sci-fi thriller Gamer, the legal thriller Law Abiding Citizen, and this year's The Bounty Hunter, which co-starred Jennifer Aniston. So strong is the brawny actor's appeal that he managed to eke out a second-place berth in this year's poll. (For much of this week, he was actually leading.) But don't cry for Gerard Butler, as he has two big roles set for 2011: Coriolanus, an adaptation of the Shakespeare Roman tragedy helmed by first-time director Ralph Fiennes; and the Marc Forster-directed Machine Gun Preacher, in which Butler will play Sam Childers, a Hell's Angel biker-turned-Christian preacher and crusader for the children of war-torn Sudan. Perhaps Gerard can finally prove his acting mettle to the naysayers who couldn't see the deft performance behind his massive pecs and glutes in 300.
1. Colin Firth
It was 15 years ago when Mr. Darcy made Colin Firth the "It Boy" on everyone's lips. In 1995's Pride and Prejudice, Firth proved that he could give anyone a run for their money in a wet t-shirt contest and created a timeless moment in British television. Fast-forward to 2010, and Firth not only has ladies still swooning over his dashing British looks, but he also has the deep respect of his industry as one of its finest talents. This year, Firth won a BAFTA and an Oscar nomination for his role as a bereaved gay professor in A Single Man, and the Oscar buzz is ramping up for his role as stammering King George VI in The King's Speech. Firth taking home the Golden Boy has almost been a foregone conclusion for months. The Hampshire-born star is also set to star (alongside Tom Hardy) in that adaptation of John Le Carré's novel Tinker, Tailor, Soldier, Spy. At 50, Firth is in the prime of his career. Well-done, sir.
Read More
Filed Under: