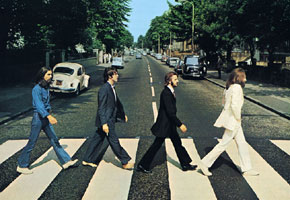 Countless Beatles fans have traveled the globe to walk across the famous "zebra crossing" that's featured on the Fab Four's 1969 album, Abbey Road. The BBC revealed today (December 22) that the world's most celebrated crosswalk has been designated for a "Grade II listed status".
"This London zebra crossing is no castle or cathedral but, thanks to the Beatles and a 10-minute photo-shoot one August morning in 1969, it has just as strong a claim as any to be seen as part of our heritage," said John Penrose, Minister for Tourism and Heritage.
English Heritage, a non-departmental public group within the British Government, recommended the crossing be protected for its "cultural and historical importance." Sir Paul McCartney is pleased with the news. "It's been a great year for me and a great year for the Beatles and hearing that the Abbey Road crossing is to be preserved is the icing on the cake."
Have you visited the Abbey Road zebra crossing?
Read More
Filed Under: