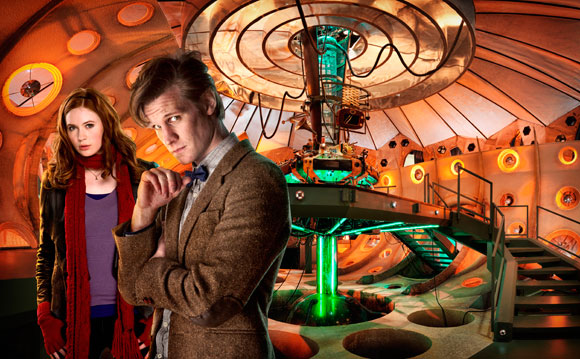 We asked some of our Twitter followers to peek into their crystal balls and tell us what UK-related headlines they expected to see in 2011. What did our budding Sylvia Brownes come up to?
Well, there are certainly lots of expectations for the upcoming season of sci-fi Doctor Who, which will feature episodes shot here in the U.S. And of course, the royal wedding on April 29th will be unavoidable. (Check out Anglophenia's Royal Wedding Insider blog for updates on Wills and Kate's nuptials.)
Check out some of our readers' witty predictions for the new year:
uspatrick: Kate Middleton leaves William at altar for James May. Speed away together in Aston-Martin. Queen catches them on foot.
veryvogue: Royal Wedding, definitely. Probably buzz about the Champions League final at Wembley and Arsenal winning the Premier League!
SmittnbyBritain: The royal wedding but also continued Tube strikes which I fear my disrupt people like myself trying to get to the ceremony.
HeatherRD: Harry Potter & the Deathly Hallows Part 2 Shatters Avatar's Records.
kristenmchugh22: Hoping for DW and Sherlock headlines, expecting Royal Wedding Headlines. I've already had enough of those.
anglotopia: Doctor Who Takes America by Storm with Episode shot in the USA. Americans Fall For Miranda Hart (i.e. her brilliant and klutzy character in Miranda.)
nextjen: "Matt Smith, Karen Gillan at Comic-Con"? "Hobbit Cast at Comic-Con"? "MI-5 returns to BBCA"? Would love them all to be true!
JessicaDwyer: David Tennant returns to the Tardis in a major storyline twist of Doctor Who.
JackieSpade: Lots of Matt Smith, Karen Gillan, and LOADS OF DOCTOR WHO!!!!
What UK-related headlines do you expect to see in 2011?
Read More
Filed Under: