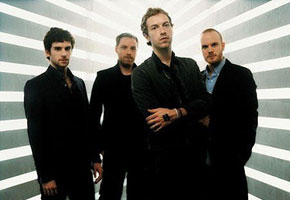 When Coldplay frontman Chris Martin visited BBC Radio 1 earlier this month, he revealed that the band's long-awaited fifth LP could be their "last big shot".
Just two weeks ago, the band sated fans with their holiday single, "Christmas Lights". But now it's back to business as Coldplay are tinkering away on new material with Brian Eno, the hit producer who oversaw their fourth LP, 2008's Grammy Award-winning Viva la Vida or Death and All His Friends. Martin recently revealed to BBC News that their currently untitled set will draw from the "inspiration of outsiders."
"It's from the point of view of two people who are a bit lost," Martin said. "Two like-minded outsiders who meet in a very difficult environment and therefore have a journey together."
Also along for the ride is engineer/producer Markus Dravs, who has previously worked on albums by Arcade Fire, James, and Mumford & Sons as well as Coldplay's Viva La Vida. Martin credits both Eno and Dravs' impeccable talent for helping the band reach a more "intimate" sound.
"It's a concept album but it's supposed to be very personal within a big framework. Does that make sense?" Martin added. "Brian is the sower of seeds and ideas and experimenting, which is very liberating. Then Marcus's job is to come in after all that's been done and try and sculpt it into some kind of releasable format."
In other music news:
– For those lucky enough to peruse the UK version of iTunes, be sure to seek out the new Christmas tune from British synth-pop duo, Hurts. Vocalist Theo Hutchcraft tweeted today (December 14) that "All I Want for Christmas is New Year's Day" is available as a free download. Yum!
– The Pet Shop Boys's greatest hits collection, Ultimate, has only hit U.S. shores via import, but sparkling new cut "Together" was recently released in the UK. Since Anglophenia are such PSB die-hards, we'd like to include the video too. (Slicing Up Eyeballs).
http://www.youtube.com/watch?v=j3co0uOCaFU&feature=player_embedded
– Scottish alt-rockers Glasvegas have finally announced plans to release a follow up their brilliant 2008 eponymous debut! The 2011 studio effort was produced by Flood (U2, Depeche Mode) and was recorded in London and Los Angeles. Frontman James Allan also elaborates on possible reasons why longtime drummer Caroline McKay left the band last year and who's stepped in to fill her shoes. (NME)
– Pete Doherty has had quite the heavy schedule with launching his new blog and website, not to mention his Albion Trinkentry jewelry line. Now the Babyshambles rascal is eyeing his first movie role based on dramatist Alfred de Musset. Later this month, he'll jet set to Paris to begin filming with co-star Charlotte Gainsbourg. (The Guardian)
– Girls Aloud's Kimberley Walsh looks to be syncing up with American R&B star Ne-Yo. The English beauty was apparently asked by the "Closer" and "One In a Million" singer to appear on a currently untitled song. This could be a great move for Walsh, who's been just as keen on breaking the U.S. as her fellow bandmates Cheryl Cole and Nadine Coyle. (The Sun)
– Garage impresario Mike Skinner is set to release The Streets' Computers and Blues in February. Want a hint of what's yet to come? Check out the video for "Going Through Hell" below. (Some Kind of Awesome)
Read More
Filed Under: