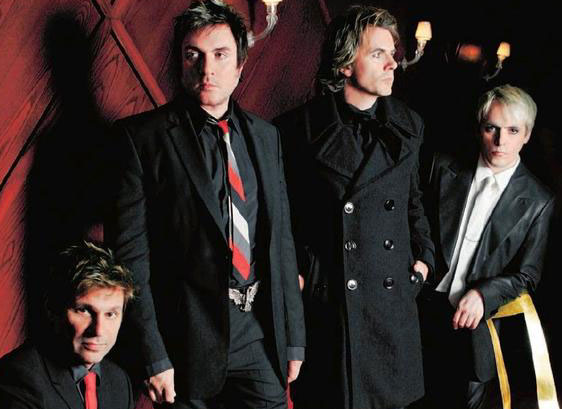 Out today is the new album from English new wave legends Duran Duran. All You Need Is Now marks the quartet's 13th studio album, which is being hailed a solid return to form à la their 1982 classic LP, Rio. English Grammy-winning producer Mark Ronson manned the nine-song set and it's as slick as you'd imagine.
Simon LeBon, John Taylor, Nick Rhodes and Roger Taylor still got it. Not too many bands can pull that off with as much style, either. Duran Duran, though, have worked extremely hard at remaining current and new tunes like "Being Followed" and "Blame the Machines" capture the band's lustrous dance-ready sound.
Keyboardist Nick Rhodes recently spoke with Vanity Fair about the band's evolving sound and how Ronson was the 'perfect' fit for All You Need Is Now.
"What happens with music is, it's cyclical," Rhodes said. "It's getting more like the fashion industry in that in some seasons certain beats sound right—then next season it changes. Right now we have all converged on what we were doing quite early on—merging dance beats with rock music and electronics—it seems to feel right. Fresh and vibrant again."
He added: "Mark was very clear in his vision to create a classic Duran Duran album—for today. He's really the perfect producer for Duran Duran. He grew up loving the band; he's got a great musical ear. He's got an unbelievable knowledge across many genres of music, and he's not afraid to experiment. Given all that, and a sense of style and charisma—it just felt right for us."
All You Need Is Now is available via iTunes. The physical CD format follows in February when Duran Duran celebrates their 30th anniversary. Here's a look at the band's fantastic new video for the title track. LeBon, sporting a new beard, is still quite dashing after all these years.
In other music news:
– Only five more days until Gorillaz drops The Fall for free! Damon Albarn has revealed the tracklisting and says the album was recorded in just 32 days. "I literally wrote everything on the day in each place and there's a strange sort of sound of America and its musical traditions that comes through," Albarn told NME. "It feels like a journey through America."
– Billy Bragg shares in the holiday spirit with a new Christmas song, "We're Following the Wrong Star". Head over to his official website for a free download of the rousing folky number. In the meantime, here's a live video version.
– We're still gushing over Oxford-bred alt-folksters Stornoway, whose merry single "Zorbing" landed at No. 24 on our 40 Best British Songs of 2010 list. The darling foursome had a fab year with tons of touring and a UK Top 20 album with Beachcomber's Windowsill. They speak with Clash Music about their memorable ride.
– After nearly a seven-year break, Britpop stalwarts Suede remerged in 2010 to play a handful of shows and issue a Best Of collection, specially handpicked by frontman Brett Anderson. The Quietus sits down with the entire band to reflect on the magic of the past year — they're a little bit older, a little bit wiser, but still incredibly dynamic.
– London-bred trio the Puppini Sisters conjure up the classic sounds of 1940s vocal pop with a neo-swing tilt. Their sparkling holiday album, Christmas with the Puppini Sisters, is a flawless spin on holiday standards like "Winter Wonderland" and "White Christmas" and more. Here are two early Xmas prezzies: downloads of "Santa Baby" and their cover of Wham!'s "Last Christmas".
http://www.youtube.com/watch?v=M1Rb1HwQnHg
Happy Holidays, Anglophiles!
Read More
Filed Under: