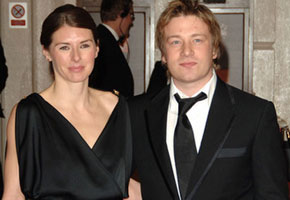 Jamie Oliver might be a millionaire celebrity chef, but the cheeky 35-year-old Brit is also a doting family man of four children and wife Juliette Norton a.k.a. Jools. Life is rich, to say the least.
When chatting with BBC Radio 5 Live, Oliver recently revealed a few tidbits on what life is like inside the Oliver household. You can be sure that he's the man of the house when it comes to preparing meals. Apparently, Jools' cooking is positively "hideous".
"I can't tell my Mrs. what to do," Oliver said, as reported by The Daily Mail. "She's not interested if I see her chopping dodgily, probably because our relationship works is because she doesn't see me as any kind of expert at cooking or anything like that. I tell her it's great but to be honest it's fairly hideous."
Oliver, who earned his third No. 1 book with Jamie's 30-Minute Meals prior to the Christmas holiday, has nothing but kind words for his wife of a decade, calling her an "amazing mum". She's the one who totally keeps things in order as he manages his bulging empire of restaurants, television shows and cookbooks. But sometimes, the couple do tend to get on each other's nerves.
"There's a natural sort of tempo to having a relationship and it's not brilliant all the time but it goes through lovely cycles," Oliver admitted. "I just think marriage is comedy really, it's absolute comedy, to love someone so dearly but also despise them at the same time is absolutely comedy."
He added: "We sometimes burst out laughing because we can't stand each other at that moment in time. But also we know each other so well and it's a comfortable, safe place."
The second season of Jamie Oliver's Food Revolution returns to ABC next year.
Read More
Filed Under: