Those bigwigs in Hollywood love their British telly. In a feverish race to provide fresh content to hungry American viewers, producers, writers, and executives maintain a watchful eye on the shows that are catching fire across the pond, hoping that they can replicate that success over here. But this process isn't an exact science: for every Office or Dancing with the Stars that pervades the American consciousness, there's a Coupling or a Men Behaving Badly that crashes upon arrival. That's not stopping U.S. networks from trying – here are a few of the UK series that will see U.S. remakes in the coming year.
4. The Inbetweeners (MTV)
As seen on BBC America, the provocative teen comedy about four high school friends and their hijinks defied the odds, won over critics, and nabbed BAFTA nominations. Can an MTV remake achieve that level of acclaim? Producers are billing the U.S. version as Freaks and Geeks meets Superbad, which implies they are at least aiming high. No airdate is set yet, as the show only recently announced its American cast.
3. Being Human (Syfy)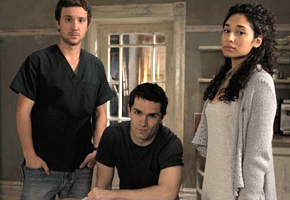 The BBC's high-concept dramedy about a ghost, a werewolf, and a vampire sharing a flat seemed ripe for an American remake, so it wasn't that shocking when Syfy announced their own version, set to premiere January 17. The original, which airs on BBC America, deftly balances character humor, darkness, and eroticism, and the chemistry between stars Aidan Turner, Russell Tovey, and Lenora Crichlow is rare and remarkable. Time will tell if the remake can be half as incisive.
2. Skins (MTV)
Alongside their remake of The Inbetweeners, MTV is also updating Skins for the U.S. audience. While American teen soaps like 90210, The O.C., and Gossip Girl have been glossy, campy, and aspirational, the British drama Skins is gritty and realistic, not shying away from frank depictions of sex and drug use, and casting actual teenagers instead of twenty- and thirty-somethings. The show was an immediate smash hit in the UK, serving as launching pads for Nicholas Hoult and Dev Patel's film careers. MTV came calling, bringing on original creators Bryan Elsley and Jamie Brittain to develop the U.S. version, which premieres January 17.
1. X Factor (Fox)
Back in January, Simon Cowell announced he was ditching the declining but still dominant American Idol to bring his own UK-based talent series, X Factor, to America this fall. With AI banking on the star power of Steven Tyler and Jennifer Lopez to fuel its resurgence, will there be room on U.S. TV for yet another singing competition?
While American Idol hasn't wavered much from its original vision – a young hopeful warbling onstage for judges' comments and viewer votes – X Factor embraces its full potential as an "entertainment program." We watch as members of the judging panel, headed by Cowell, mentor the contestants (who can be either solo artists or group acts.) And the competitors' live performances can be full-on theatrical setpieces with props, special effects, and choreographed backup dancers. American Idol is already preemptively pulling from the X Factor playbook, hiring recording magnate Jimmy Iovine as a mentor for Season 10 and focusing on "the full artist" instead of just the vocals.
Geordie beauty and pop star Cheryl Cole is reportedly set to make the leap with Cowell as a judge for the U.S. version, and everyone from George Michael to Noel Gallagher has been rumored to join them on the panel.
Read More
Filed Under: