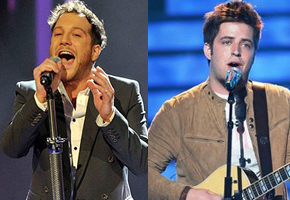 The latest winner of Simon Cowell's UK talent show X Factor is Matt Cardle, a 27-year-old "former painter and decorator" from Essex who sings folk-tinged alt-rock. No, you probably won't have to worry about remembering that name, as he'll likely have little impact in the UK, much less on our American shores. (The only X Factor winner with any real global success has been Leona Lewis.)
Cardle's victory on the hugely popular series today (December 12) has produced a divided reaction across the web. In an article titled "Matt Cardle has the Z-Z-Z-Z Factor," Daily Telegraph writer Neil McCormick writes, "I'm sorry to be the one to break it to Matt, but if there is a market for dumpy blokes with warbly voices covering indie anthems, then it's Camden Market, in the bar at the back when the stalls close and the traders get the karaoke machine going."
Cardle bears more than a passing resemblance to this past season's already-forgotten American Idol winner Lee DeWyze, the scruffy rock crooner who defeated a slew of other snooze-worthy contestants. If this is the level of "star" that Cowell will produce in his upcoming American version of X Factor for Fox, that doesn't speak too well for the show's fortunes, now does it?
You can watch Cardle perform his victory song, a rather tuneless cover of Scottish band Biffy Clyro's quite enjoyable rock ballad "Many of Horror." (The original version was No. 18 on Anglophenia's top 40 British songs of 2010.)
Cardle's version? To say it was "pitchy, dawg" would be a mild criticism:
Biffy Clyro's original for comparison's sake:
Also from the X Factor finale: Cardle doing a duet with superstar Rihanna, performing her hit "Unfaithful."
What do you think of Matt Cardle? Could he be successful stateside?
Read More
Filed Under: