Like a miner with an instinct for finding the richest vein, British director-writer Mike Leigh digs through the quotidian details and routines of ordinary existence to turn up treasure.
In his terrific latest film, Another Year, the filmmaker behind Secrets & Lies, Vera Drake, and Happy-Go-Lucky again finds drama, heartache and happiness in the seemingly most prosaic of lives. This is the kind of great, quiet little movie in which nothing happens, and yet everything happens.
Anchoring Another Year are Tom and Gerri (Jim Broadbent and Ruth Sheen), a long and happily wed couple nearing their senior years. He's a geologist and she's a therapist; they live in a comfortable house in London and spend their free time cultivating flowers and vegetables in a community garden plot.
The movie follows their lives and, when they intersect with Tom and Gerri's, those of their adult son (Oliver Maltman), a troubled friend named Mary (Lesley Manville), and several others over the course of a year. As the seasons come and go, there are dinners and lunches, wine, a flirtation, a car purchase, an engagement, a death and a funeral, and other markers of life, big and small.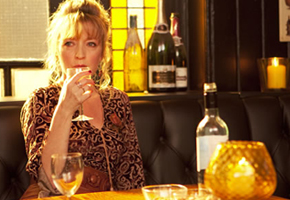 What the movie is exploring, like a tongue that keeps probing a sore spot in one's mouth, is what makes some lives happy and others sad. How have Tom and Gerri ended up content with themselves and their lives, while Mary and another old friend, Ken (Peter Wight), seem in middle age to have completely lost their way?
Kindness, the movie suggests, plays a large role in a life well lived, and luck. Also contributing, it hints, are not wanting too much and being well satisfied with what one has.
That the movie doesn't play like one big bromide is due both to Leigh's restrained direction and the beautifully measured, naturalistic performances by the cast. Broadbent and Sheen nail the comfortable rhythms and routines of a long married couple, where loyalty to each other trumps all other relationships. In particular, it is a pleasure to see veteran character actress Sheen shine so brightly in a major role; as the generous-hearted Gerri, she emits a steady glow.
The showiest performance here is by Manville, who has made six other films and TV shows with Leigh. Her Mary, desperate for happiness and yet hopeless at finding it, becomes an ever more fragile creature. Manville, from the way she too quickly gulps a glass of wine to the way she distractedly drives a car, makes heartbreakingly real the panic beginning to engulf her character.
Trailer and clips:
Read More
Filed Under: