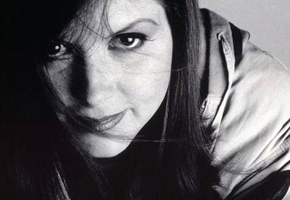 U2 frontman Bono called her "the Noël Coward of her generation." And even if you don't know her name, you've heard her winsome British voice in songs from The Smiths, Morrissey, Talking Heads, and most notably, on The Pogues' "Fairytale of New York," which has become a holiday standard. It was ten years ago today (December 18) that we lost Kirsty MacColl in a senseless, tragic boating accident in Mexico. She was only 41.
Hearing "Fairytale of New York" in the holiday seasons since 2000 has been bittersweet. She gets the best lines in that cheeky tit-for-tat with Pogues frontman Shane MacGowan. "Merry Christmas, your ass," she spits out. "I pray God it's our last." The folksy MacColl always projected a humane, earth mother warmth with a biting wit and what you just knew was a mischievous glint in her eye. It's absolutely beguiling and on display in her own solo songs, including her 1979 debut single "They Don't Know," which later became a hit for comedian Tracey Ullman.
An extremely versatile singer, MacColl could also provide a fetching backing vocal. My introduction to MacColl came through her collaborations with The Smiths and their charismatic frontman Morrissey. Her elegant purring in The Smiths' 1986 track "Ask" elevates that song to one of the band's best. And Kirsty's vocals in Morrissey's 1989 solo track "Interesting Drug" add a cooing Caribbean inflection.
From the late '80s up to her death, she put out a string of gutsy, lyrically acerbic albums, starting with 1989's country-fried Kite. 1991's Electric Landlady (a play on Jimi Hendrix's Electric Ladyland album title) brought MacColl's Latin and world music interests to the fore. That album's hit single, "Walking Down Madison," nods to hip-hop and features a scathing diss of New York City's elites. "From the sharks in the penthouse to the rats in the basement, it's not that far," she sings.
1993's Titanic Days is dark and tremendously lush, and many consider it her best work. MacColl was ending her marriage to producer Steve Lillywhite around that time, and the album's often bitter lyrics reflect that. (See the jazzy, Elvis Costello-esque "Can't Stop Killing You," which even has a reference to a "little Hitler.")
MacColl's final album, 2000's Tropical Brainstorm, galvanized MacColl's love of Latin America — Cuban jazz, Brazilian samba — into one utterly convincing work. BBC America fans might recognize that album's "In These Shoes?" as the theme tune to The Catherine Tate Show. (Tate sang the song in tribute to Kirsty at a concert a few months back.)
Here are some of our favorite MacColl tracks. There's much more where this came from. Damn, she's missed.
"They Don't Know"
http://www.youtube.com/watch?v=zHnYJgjDQiw
"There's a Guy Works Down the Chip Shop Swears He's Elvis"
"A New England" (Billy Bragg cover)
"Days" (Kinks cover)
"Soho Square"
"Walking Down Madison"
"Can't Stop Killing You"
"In These Shoes?"
"Fairytale of New York"
Read More
Filed Under: