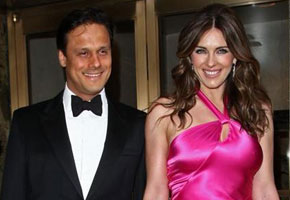 It's splitsville for Elizabeth Hurley and Arun Nayar. News broke on Sunday (December 12) via People, while the English beauty took to Twitter to confirm the sad story.
"Not a great day. For the record, my husband Arun & I separated a few months ago. Our close family & friends were aware of this," Hurley tweeted.
Hurley has now been linked to Aussie-born cricket pro Shane Warne. According to the Daily Mirror, the couple are apparently in love after meeting at a horse race in the UK in July. She and Warne, a father of three who is estranged from his wife Simone, have also been flirting a bit through Twitter and were captured smooching in public a couple of times.
After hooking up in 2002, Nayar and Hurley were married in two lavish ceremonies in 2007. Since then, the model, actress and bikini fashion designer and the Indian businessman have lived on the couple's organic farm in Gloucestershire, England, with Hurley's eight-year-old son, Damian. She and British actor Hugh Grant, who is Damian's godfather, dated for 13 years prior to breaking up in 2000.
What unfortunate news. I thought Hurley and Nayar made a gorgeous couple.
Read More
Filed Under: