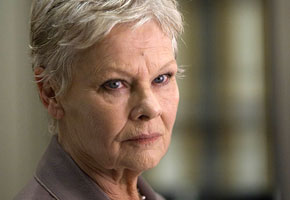 The Playlist reports that Dame Judi Dench has signed on for Clint Eastwood's forthcoming biopic on the United States' first FBI director, J. Edgar Hoover.
The 2012 drama, J. Edgar, is said to highlight Hoover's notorious career while showcasing his secret homosexual lifestyle. Dench's part has yet to be revealed, but Leonardo DiCaprio has been cast as Hoover, while Armie Hammer (The Social Network, Gossip Girl) will portray Clyde Tolson, the FBI's associate director and Hoover's much rumored lover.
Australian actor Damon Herriman (Justified) will play Bruno Hauptmann, the German-born criminal known for kidnapping and murdering Charles Lindbergh's infant son – a case that Hoover oversaw in his first days with the FBI. And if the cast couldn't get any cooler, Charlize Theron may take on the role of Helen Gandy, who served as Hoover's personal secretary for more than half a century. Filming is slated to start in February.
Dench — who is the "Greatest Stage Actor" ever according to a poll conducted by The Stage — will also star in next year's Jane Eyre and Pirates of the Caribbean: On Stranger Tides.
Read More
Filed Under: