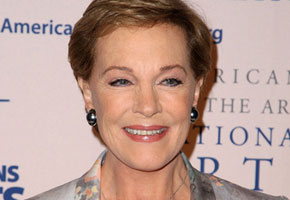 Dame Julie Andrews on Glee? Wouldn't that be something? Apparently the revered English actress is in talks to star on the Emmy- and Golden Globe-winning TV musical dramedy, The Daily Star reports.
Earlier this month, Showbiz Spy revealed that Chris Colfer, who plays the cheeky Kurt Hummel, wishes for Andrews to play his grandmother on the show.
"I'm pretty sure I've been obnoxious enough now that she knows that I want her," he said. "I think they just have to write it for her."
Anne Hathaway is also working on a possible Glee cameo. The 28-year-old American film star played opposite Andrews in the Princess Diaries (2001) and its sequel, The Princess Diaries 2: Royal Engagement (2004).
"Anne Hathaway wants to play my lesbian aunt," Colfer added. "I'm all for that. Could you imagine a family with myself, Mike O'Malley [who plays Kurt's dad], Julie Andrews and Anne Hathaway? That's one hell of a family."
Should Andrews appear on Glee, it's unlikely that she would have a large singing part. In 1997, she underwent an operation to remove non-cancerous nodules in her throat, which damaged her signature angelic vocals. But she previously told Showbiz Spy in October that she can still carry a lovely tune.
"I could never pretend that I sing as I used to," Andrews explained. "I have a few good bass notes, so I can do a great 'Ol Man River,' and I can sing-speak a little bit."
Would you like to see Dame Julie Andrews on Glee?
Read More
Filed Under: