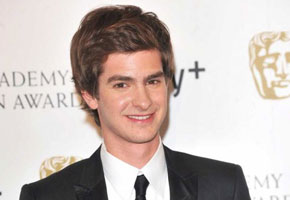 British-American actor Andrew Garfield is set to morph into Spider-Man for the hotly anticipated 2012 reboot. But the 27-year-old star of The Social Network and Never Let Me Go is starting to slightly freak out over doing right by the role previously played by Tobey Maguire.
"I'm very, very excited and nervous and 'Spider-Man' — I'm working hard to make sure I don't mess it up — physically, mentally, emotionally," Garfield told Virgin Media.
He added: "It means as much to me as it does to everyone else. I can objectively look at myself and be like, 'You better not screw this up man. I'm going to be so pissed off with you if you do'."
Garfield is just over two weeks into shooting Spider-Man and he's absolutely loving his new lycra-fitted suit.
"I feel like a kid in my pajamas," he told The Guardian just prior to the Christmas holiday. "I can only say how it feels and it feels pretty special I have to say. It feels like a dream realized… again, I don't take it lightly. I feel very, very lucky that I get to wear spandex for the next few months."
Garfield's portrayal of Eduardo Saverin in David Fincher's Facebook saga earned him a Golden Globe nomination for Best Supporting Actor in a Motion Picture. He'll face off against Christian Bale (The Fighter), Geoffrey Rush (The King's Speech), Michael Douglas (Wall Street: Money Never Sleeps), and Jeremy Renner (The Town) when the 68th Annual Golden Globes premieres on Sunday, January 16.
Read More
Filed Under: