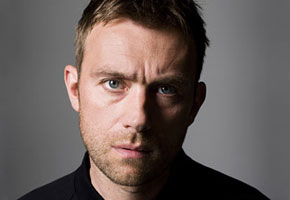 Damon Albarn is playing Santa this holiday season, As promised, the new iPad-tweaked Gorillaz album will arrive on Christmas, NME reveals. The LP is entitled The Fall.
"I wrote it in October," Albarn explained to U.S. radio station Triple J. "I didn't want to call it 'October' because U2 had already used that. Although I like the word October, I like the month, I like the feeling."
Albarn previously announced that he plans to get back to his first band, Blur, some time in the New Year. He's also keeping busy with his other side project with Red Hot Chili Peppers bassist Flea and Afrobeat legend Tony Allen. And the music mastermind is apparently tinkering away "on a piece for the Manchester International Festival about Elizabethan occult philosophy". So yeah, it's looking like things will remain quiet in the Gorillaz camp for a while.
"I'm putting [Gorillaz] back in a box for a while," he said. "Just putting it back on the shelf."
The Fall will be available as a free download via the Gorillaz's official site on December 25. Best present ever!
Read More
Filed Under: