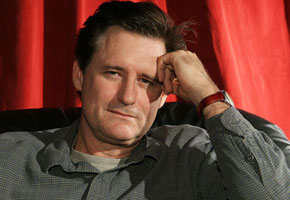 Creator Russell T Davies isn't messin' around with the upcoming international season of Torchwood: he's going after the cream of Hollywood's A-list actors to fill out the show's cast. Yesterday, we learned Mekhi Phifer had joined the team, and today, Deadline is reporting that Bill Pullman (Independence Day, While You Were Sleeping) has signed on as a series regular.
According to Deadline, Pullman will play "Oswald Jones, a dangerously clever convicted murderer who escapes his lifelong prison sentence on a technicality and quickly becomes a media sensation. Genuinely repentant yet boiling with lust and rage, Oswald gets caught up in a terrifying worldwide crisis."
The next season of Torchwood will air on Starz next year. Actors John Barrowman and Eve Myles will reprise their roles as Captain Jack Harkness and Gwen Cooper.

What do you think about Bill Pullman joining the cast of Torchwood?
Read More
Filed Under: