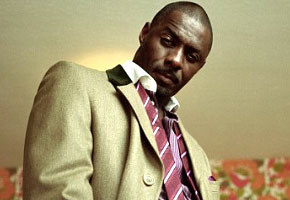 The road to Oscar is becoming a bit clearer as the 68th Annual Golden Globe nominations were announced (December 14). British comedian Ricky Gervais, who brought down the house last year as host of the Globes, will once again play MC at this year's ceremony when it is held on Sunday, January 16.
In BBC America-related news, congrats to actor Idris Elba, who was nominated for his title role in the miniseries Luther. (Elba recently made Anglophenia's list of the Top 5 Hottest British Actors of 2010.)
The King's Speech continues to dominate this year's field, leading with 7 nominations, including Best Actor in a Drama for Colin Firth, Best Director for Tom Hooper, Best Supporting Actor for Geoffrey Rush, and Best Supporting Actress for Helena Bonham Carter. (Read Leah Rozen's review of The King's Speech.)
Shockingly, Mike Leigh's critically acclaimed film Another Year and its star Lesley Manville were shut out. Notably, Another Year made Leah Rozen's top 5 British films of the year, and Manville was awarded Best Actress by the National Board of Review last week.
The Globes selected British actor Andrew Garfield over his flashier Social Network co-star Justin Timberlake for the Best Supporting Actor category. Garfield will face off against fellow Brit and NBR winner Christian Bale, who is an Oscar frontrunner for his role in The Fighter.
Inception saw no nominations for its ensemble, but its British director/writer Christopher Nolan was mentioned in the Director and Screenplay categories.
The Best Actress in a Miniseries or TV Movie category features three Brits: Hayley Atwell from Pillars of the Earth, Dame Judi Dench from Return to Cranford, and Romola Garai from Emma. Atwell's Pillars of the Earth co-star Ian McShane competes against Idris Elba for the Best Actor in a Miniseries or TV Movie award.
Complete list of nominees below – Brits in italics:
Best Picture – Drama
Black Swan
The Fighter
Inception
The King's Speech
The Social Network
Best Picture – Musical or Comedy
Alice in Wonderland
Burlesque
The Kids Are All Right
Red
The Tourist
Best Director
Darren Aronofsky – Black Swan
David Fincher – The Social Network
Tom Hooper – The King's Speech
Christopher Nolan – Inception
David O. Russell – The Fighter
Best Actor – Drama
Jesse Eisenberg – The Social Network
Colin Firth – The King's Speech
James Franco – 127 Hours
Ryan Gosling – Blue Valentine
Mark Wahlberg – The Fighter
Best Actress – Drama
Halle Berry – Frankie and Alice
Nicole Kidman – Rabbit Hole
Jennifer Lawrence – Winter's Bone
Natalie Portman – Black Swan
Michelle Williams – Blue Valentine
Best Actor – Musical or Comedy
Johnny Depp – Alice in Wonderland
Johnny Depp – The Tourist
Paul Giamatti – Barney's Version
Jake Gyllenhaal – Love and Other Drugs
Kevin Spacey – Casino Jack
Best Actress – Musical or Comedy
Annette Bening – The Kids Are All Right
Anne Hathaway – Love and Other Drugs
Angelina Jolie – The Tourist
Julianne Moore – The Kids Are All Right
Emma Stone – Easy A
Best Supporting Actor, Motion Picture
Christian Bale – The Fighter
Michael Douglas – Wall Street: Money Never Sleeps
Andrew Garfield – The Social Network
Jeremy Renner – The Town
Geoffrey Rush – The King's Speech
Best Supporting Actress, Motion Picture
Amy Adams – The Fighter
Helena Bonham Carter – The King's Speech
Mila Kunis – Black Swan
Melissa Leo – The Fighter
Jacki Weaver – Animal Kingdom
Best Actor in a mini-series or TV movie
Idris Elba – Luther
Ian McShane – Pillars of the Earth
Al Pacino – You Don't Know Jack
Dennis Quaid – The Special Relationship
Edward Ramirez – Carlos
Best Actress in a mini-series or TV movie
Hayley Atwell – Pillars of the Earth
Claire Danes – Temple Grandin
Judi Dench – Return to Cranford
Romola Garai – Emma
Jennifer Love Hewitt – The Client LIst
Best Supporting Actress in a series, mini-series or TV movie
Hope Davis – The Special Relationship
Jane Lynch – Glee
Kelly Macdonald – Boardwalk Empire
Julia Stiles – Dexter
Sofia Vergara – Modern Family
Best TV movie or mini-series
Carlos
The Pacific
Pillars of the Earth
Temple Grandin
You Don't Know Jack
Best original song – motion picture
Bound to You – Burlesque
Coming Home – Country Strong
I See the Light – Tangled
There's a Place for Us – Chronicles of Narnia: The Dawn Treader
You Haven't Seen the Last of Me – Burlesque
Best Actor, TV series comedy
Alec Baldwin – 30 Rock
Steve Carell – The Office
Thomas Jane – Hung
Matthew Morrison – Glee
Jim Parsons – The Big Bang Theory
Best Actress in a TV series, comedy
Toni Collette – Unites States of Tara
Edie Falco – Nurse Jackie
Tina Fey – 30 Rock
Laura Linney – The Big C
Lea Michele – Glee
Best Actor in a TV series, drama
Steve Buscemi – Boardwalk Empire
Bryan Cranston – Breaking Bad
Michael C. Hall – Dexter
Jon Hamm – Mad Men
Hugh Laurie – House
Best Actress in a TV series, drama
Julianna Margulies – The Good Wife
Elizabeth Moss – Mad Men
Piper Perabo – Covert Affairs
Katey Sagal – Sons of Anarchy
Kyra Sedgwick – The Closer
Best original score – motion picture
Alexandre Desplat – The King's Speech
Danny Elfman – Alice in Wonderalnd
AR Rahman – 127 Hours
Trent Reznor – The Social Network
Hans Zimmer – Inception
Best screenplay – motion picture
Danny Boyle – 127 Hours
Lisa Cholodenko and Stuart Blumberg – The Kids Are All Right
Christopher Nolan – Inception
David Seidler – The King's Speech
Aaron Sorkin – The Social Network
Best Supporting Actor in a series, mini-series, or TV movie
Scott Caan – Hawaii 5-0
Chris Colfer – Glee
Chris Noth – The Good Wife
Eric Stonestreet – Modern Family
David Straitharn – Temple Grandin
Best TV Series, comedy
30 Rock
The Big Bang Theory
The Big C
Glee
Modern Family
Nurse Jackie
Best foreign language film
Biutiful, Mexico, Spain
The Concert, France
The Edge, Russia
I Am Love, Italy
In a Better World, Denmark
Best animated feature film
Despicable Me
How to Train Your Dragon
The Illusionist
Tangled
Toy Story 3
Read More
Filed Under: